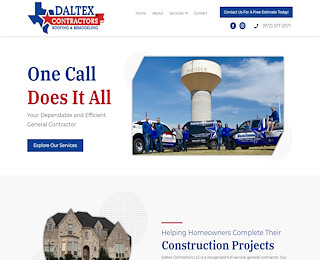 Your roof is one of the essential parts of your home, yet it is one that you may not think about often. If your roof suffers damage due to a storm or needs repair, you need help from a professional Carrollton roofing company. At Daltex Contractors, LLC, we offer high-quality expert roofing services at reasonable rates. We
Does My Roof Need Repairs?
You may notice that you have leaking inside your home or shingles that are lying in your yard. These can be indications that you need to pay attention to your roof. Residential roofs are made to last ten or twenty years or more. If your roof is reaching the end of this period, it may be time for a replacement. Do not attempt to climb onto your roof because it is dangerous. Call an experienced Carrollton roofing company to assess the condition of your roof and provide you with an estimate for repairs. In some cases, it may be more cost effective to get your roof replaced.
Residential Roofer in Carrollton
Daltex Contractors, LLC is a leading Carrollton roofing company. We have more than 25 years of experience in the roofing business. When you need a repair or replacement, we will handle the entire project from start to finish. The first step is to obtain a free estimate for services. If you have roof damage, we can often make repairs. You don't want to let your roof continue to leak without getting repairs because it could cause structural damage and mold. Our expert will arrive at your home and safely assess the damage. Then, we will talk to you about your options and give you an estimate.
How Should I Choose A Carrollton Roofing Company?
All Carrollton roofing companies are not alike. When you choose a company to perform repairs or replacement services, consider their experience. You want to hire a company that has the expertise to take care of any job, large or small. At the same time, you want to make sure the company is reputable. If you don't need to replace your roof, you don't want to have to pay for this significant expense. The company should have a license and insurance. Finally, pick a company that has a good reputation. Check to see what other customers say about the services.
Call Daltex Contractors, LLC
Daltex Contractors, LLC is a family-owned and operated business. We have many years of roofing experience and pride ourselves on providing high-quality repairs and installations. We take customer service seriously and work hard to ensure that our services meet or exceed your expectations. We take pride in our work, and we achieved the status of GAF master elite certification. Our team is trained and certified to work with GAF roofing products. Only three percent of all contractors attain this status. We fully guarantee our work and will always stand behind our services. We are happy to assist you with all your roofing needs. Contact Daltex Contractors, LLC for a free estimate today.