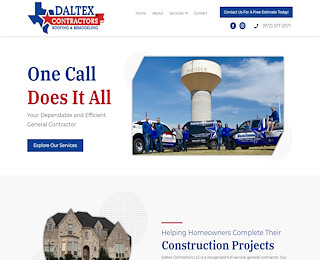 Any house owner, sooner or later, might face problems related to a water leak from a damaged roof or missing shingles. We, at Daltex Contractors, are here to help you with any roofing, remodeling, or restoration works.
Should you get a new roof?
Missing shingles or persistent water spots on the attic ceiling are a good indication that your roof needs to be changed. However, we advise you to ask for a second opinion and consult a Dallas roofing contractor who will do a thorough investigation before suggesting a replacement. The contractor can temporarily solve your problem by changing a few shingles.
On the long run, you should remember that the roof is your home's first line of defense against rain and snow, so better keep an eye for these signs:
Visibly worn or curled shingles
Aged or bad looking roof
Multiple leaks detected in the attic during the rainy season
Missing or cracked shingles
Roof experienced extended damage due to recent hails or strong winds
Your neighbors are changing the roof, and this may be an indication that your roof might also be due for a change
A damaged roof can cause additional damages to your house's structure, particularly to the wooden beams and outdoor walls. When combined with broken or stuffy gutters, usually associated with a damaged roof, your foundation may also be at risk. Roof replacement is a costly but necessary investment, with practical implications in maintaining your house integrity.
Should you leave your home during the roof replacement?
A simple answer to this question will be no. You can safely remain in your house during the roof replacement, considering that a professional Dallas roofing contractor will take only a few days to finish the work. Since most of the roofers are working during the weekdays, while you are at work, you should only expect a minimal disruption to your daily routines.
Roofing, however, involves a large crew working around and on top of your house, which leads to a great deal of noise. If you usually spend most of your time at home or if you work from home, you may want to stay away for a few days until we finish the installation.
How often should you replace a roof?
Depending on the shingles material, a roof can last anywhere between 20 to 100 years. Asphalt is the most used roofing material in the US, having a lifetime of approximately 20 years. An alternative is the shingles made out of slate or concrete, in which case your roof can last for up to 100 years, while Aluminum or metal shingles can last up to 30 to 40 years.
Regardless of the material used for your roof, we, at Daltex Contractors, are aware of the effects of a correct installation on a roof 's life expectancy. As an accredited Dallas roofing contractor, we will ensure that all industry norms are respected so you will enjoy your roof, trouble-free, for many years.