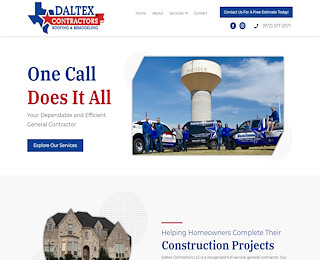 You probably don't give too much thought to your roof, until you have a problem. If you have a leak or you lose shingles, you need help from an expert. As a leading Frisco roofing company, Daltex Contractors, LLC has the experience and skill to repair or replace your roof. We are a designated GAF master elite roofer.
What is A GAF Master Elite Roofer?
A GAF master elite roofer is a designation assigned by GAF to the top roofing companies in the country. GAF is the largest roofing manufacturer in the United States. Only the top three percent of roofers achieve this prestigious designation. Master elite roofers must have ongoing professional training, adequate insurance, proper licensing, and must have a proven reputation in the community. At Daltex Contractors, LLC, we have achieved this designation through our hard work and dedication as a leading Frisco roofing company.
Roof Repairs and Replacement
Daltex Contractors, LLC offers complete roof repair and replacement services. We also provide residential roofing maintenance plans. As a top Frisco roofing company, we want to help you protect your most significant investment, your home. If you have a problem with your roof, such as a leak, we will inspect your home, assess your needs, and provide you with a repair estimate. The areas of your roof where you may experience leaks are around the flashings, pipe jacks and vents.  The seals around these portions of the roof can wear away and may become damaged. We may need to reseal these areas to keep your roof from leaking. Repairs are the fastest and easiest way to improve the quality of your roof and extend its life.
Do We Need a New Roof?
Although your roof is made to last a long time, you will need to replace it at some point. As a reputable Frisco roofing company, we will inspect your roof and discuss the available options. Sometimes it can become too costly to keep trying to repair a roof that has come to the end of its useful life. When that happens, we will give you a quote for a new roof installation. In some cases, you can help your roof last longer with regular maintenance.  Our maintenance plans include inspection and minor repairs to keep your roof in good condition.
About Daltex Contractors, LLC
At Daltex Contractors, LLC, we are a top Frisco roofing company. We have been providing high-quality services for more than 25 years. We guarantee our work and strive to make sure that every customer has a pleasant experience. We are a family-owned and operated business, so we understand the importance of providing excellent craftsmanship and customer service. We are a reputable company, and we are here to stay. You can view some of our outstanding work in our online gallery. Our team of expert roofers will work with you to take care of all your roofing needs quickly and professionally. Contact Daltex Contractors, LLC to request a free estimate for our quality services.