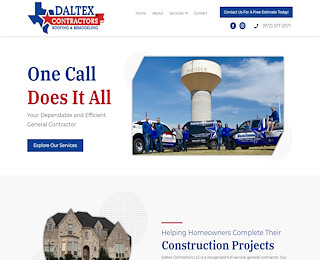 Maintaining your home's look can be expensive and time-consuming, and some jobs are not only necessary, but they also have a pretty good return on investment. McKinney roofing will not only give your house a fabulous new look, but also allow you to regain up to 70% of what you spend on the new roof. Of course, using a highly reputable company like Daltex Contractors LLC will affect the total value of your investment as well.
Are modern roofs better?
Thanks to some major advancements in technology, the roofing system used today is much better than the ones used in the last century. If you haven't changed your roof in over 20 years, then you may want to start giving it some serious thought. One of the most dependable, practical, and energy efficient systems on the market today is the GAF roofing system. This system has been given the Good Housekeeping Seal of Approval and was designed so that every component works together for the ultimate protection. This includes gutters, roof vents, shingles, underlayment, and flashing.
GAF is the United State's biggest roofing company and is a market leader, thanks to many of its innovative roofing products. The GAF roofing system has many features that make it stand out from its competition. One of these includes Timberline shingles which have adhesives to fight against strong winds and StainGuard to protect against mold and mildew.
What is a GAF Master Elite Contractor?
A Master Elite Contractor is someone who has met and passed all the rigorous testing and standards needed to be licensed and certified by the top roofing manufacturer in the United States. With only 3 percent of all contractors qualifying as a Master Elite, you can be sure that you are getting the best of the best. If you are going to spend the money to get the best McKinney roofing system available, then it's essential that the right person installs it. A Master Elite roofer has gone through all the proper training to ensure that you get high-quality workmanship while providing adequate insurance and all the right licenses.
Should I get a roofing maintenance plan?
Having a good residential maintenance plan is always a good idea. Fixing or replacing your roof is not a cheap venture, and you want to make sure that your investment is protected. Even if you pay extra to get the best roofing system on the market and have it installed by the best contractors in the city, you never know when a vicious storm does some unexpected damage to your new roof. Sometimes this damage is not even visible, which can become a real problem. The right maintenance plan can help prevent damage from getting worse and even discover issues you may not have known about.
For the best in McKinney roofing, you want a company that provides not only the best roofing systems and contractors in the country, but also the best maintenance plans to ensure that your investment is protected, and Daltex Contractors LLC is the company to do just that.