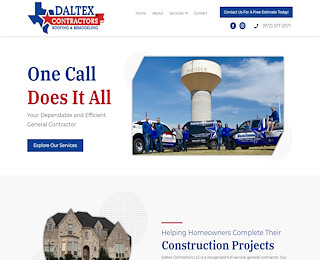 When you have a leak in your roof, or you notice damage, you need professional help. Don't risk injury by trying to climb onto the roof yourself. Instead, count on an expert Richardson roofing contractor to assess the damage and determine the best resolution. At Daltex Contractors, LLC, we are a leading roofer, and we have master elite certification.
What is a Master Elite Certification?
Master elite certification is a program from GAF, the leading roofing manufacturer in the United States. Only about 3 percent of roofing contractors achieve elite status, and our Richardson roofing company is one of them. As an elite roofer, we have the expert training, licensing, and reputation that only the top roofing companies attain. You can be sure that we provide you with the best and highest-quality products and services.
Residential Roofing Maintenance Plans
Your roof should last for many years. Unfortunately, if you don't take proper care of your roof, it could result in problems, and you might need to replace your roof sooner. At Daltex Contractors, LLC, we offer roofing maintenance plans for your residential roof. The program protects your roof and provides you with an inspection so you can fix any problems quickly before they cause permanent damage to your structure. We have a team of professionals who are available to take care of all your Richardson roofing needs. Regular maintenance will extend the life of your roof and save you money in the long run.
What is a Roof Replacement?
When your roof reaches the end of its useful life, you can no longer obtain reliable repairs. It can begin to become too costly to fix your roof, and you could jeopardize the security of your home. As a leading Richardson roofing company, we are experts at roof replacements. When we can't repair your roof, it is time to consider a new one. We will provide you with an estimate and explain the various options that we have available. You can choose the materials that will meet your needs. Our expert installation team will remove your old roofing materials and dispose of them. We install your new roof and provide you with a lasting guarantee.
Family Owned Richardson Roofing Company
Daltex Contractors, LLC is a family-owned and operated roofing contractor serving Richardson and the entire surrounding area. We take pride in our work, and we strive for 100% customer satisfaction. You can view some of our recent roofing jobs on our online gallery. We offer free estimates, and we take the time to explain our services and answer your questions. Our team of employees is highly skilled and expertly trained. We have all of the safety and roofing equipment we need to ensure that we take proper care of your roof. With our help, your roof will last for a long time to come. If you suffered storm damage to your roof, do not hesitate to call for an assessment of damages and a quote for repairs. Contact Daltex Contractors, LLC today for all your residential roofing needs.