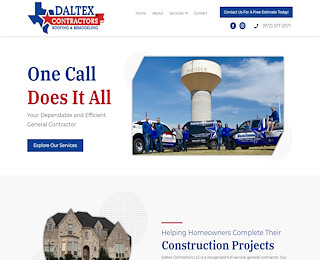 One of the biggest challenges homeowners face when looking to repair their roof is choosing the right contractor to do the job. If you have ever searched the words 'best roof repair near me', you know how many roof contractors are available in your location. But that doesn't mean you should choose the first roof repairer who knocks on their door. Finding a contractor who is trustworthy and professional may sound difficult, but it doesn't have to be. Follow these tips to help you find a contractor you can trust to repair your roof. 
How long has the roofing contractor been in business?
You probably wouldn't allow a freshly graduated doctor to perform heart surgery on you. So why choose a roof repairer that doesn't have a long track record of performing quality work. Also, keep in mind that it is quite challenging to file a lawsuit against someone that closes its shop after a lawsuit. 
At Daltex Contractors LLC, we have been installing and repairing roofs for homeowners for over 30 years. For years, we've built a solid foundation of trust with homeowners in Allen, Carrollton, Coppell, Fairview, Farmers Branch, Flower Mound and more. Chances are, we've replaced or repair a roof for a homeowner in your neighborhood.    
Does the contractor have proper insurance and licensing?
A contractor should have insurance for all his/her workers and be able to provide their insurance certificate when required. As a homeowner, you should never work with any company or contractor that can't offer proof of insurance for its workers. Not having proper insurance could potentially lead to litigation between you and the contractor if any of the workers sustains an injury while working on your roof. It is also crucial to have the right set of tools, safety equipment, and materials. 
Meet face-to-face with the contractors

Having narrow down your search, invite prospective repairer to visit your home and check out the job. You will want to discuss the extent of the task to be completed. However, don't forget to ask about the manpower and time needed for completion. The roofing contractor should be professional, professional, and enthusiastic in demeanor. Ask a lot of question and remember to get a list of references.
Get it in writing
every part of your roofing repair work should be writing, but it's especially crucial to make sure you completely understand all the financial terms involved in the process. a reliable roof repair company will appoint a well knowledgeable and dependable worker to walk you through the process, contract, and answer any question you may have about the payment process. You must not leave any part of the agreement unresolved. 
The bottom line
The points discussed above should go a long way towards helping you hire the right roof repair contractor for your requirement, thus saving you the need to deal with the extra expense of paying another person to fix the botched job.
Are you wondering "where can I get a roof repair near me?" Fortunately, you have come to the right place. You can count on Daltex Contractors - our focus on delivering quality and length of time in the roofing installation industry make us the best choice.
Roof Repair Near Me