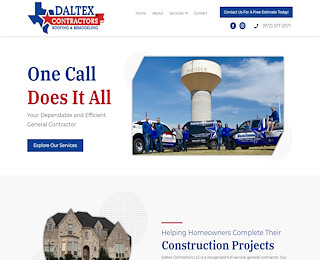 Storms, high winds, and hail can cause damage to your home's roof. If you notice that your roof has damage, it is time to call the professionals. You need a skilled Wylie roofing company to handle the repairs. An expert will examine your roof, assess the damage, and provide you with an estimate for repair.
Does My Roof Have Damage?
There are some signs that your roof has suffered some damage. You may notice pieces of shingles in your yard or other objects that came off your roof. Another sign is leaking that appear inside your home. If you see these things, do not delay. You don't want to allow the damage to get worse. You also don't want to risk going up on your roof alone. Instead, call a professional Wylie roofing company to check your home. At Daltex Contractors, LLC, we have the expertise and equipment we need to review the damage to your roof correctly. If it does, we will provide you with an estimate for repairs.
GAF Master Elite Roofer
Daltex Contractors, LLC is one of only three percent of roofing companies that achieve the GAF master elite roofer status. To obtain this designation, we have to show an ongoing commitment to professional training, have proper licensing, a stellar reputation in the community, and adequate insurance. Our team is proud to be among this elite group. We take pride in our excellent Wylie roofing services and are happy to ensure that our customers are 100% satisfied with our work. We own and operate our family business and have more than 25 years of experience.
What Are Residential Roofing Maintenance Plans?
At Daltex Contractors, LLC, we offer residential roofing maintenance plans that will protect your home and keep your investment safe. Your roof is an essential part of your home, and if it has problems, it can jeopardize your dwelling. Our Wylie roofing maintenance plan provides you with complete protection for a small annual cost. The program includes an inspection of the roof system and any related structures. We look for damage, particularly around flashings, pipe jacks, and vents where there is most likely to be the source of a leak. The plan includes a one-year warranty on your roof for leaks, and you can transfer the warranty if you sell your home.
High-Quality Wylie Roofing Contractor
Whether you need a repair to your roof or need to get a new roof, we have the expertise and skill to handle the situation. We provide free estimates and will give you the options that are best for your needs. We will answer your questions and concerns and will help you make choices that will protect your home and stay within your budget. We guarantee our work, so you won't need to worry about any problems with your roof in the future. View our gallery to see some of the work we have done for our many satisfied customers. Contact Daltex Contractors, LLC, for all your roofing needs.